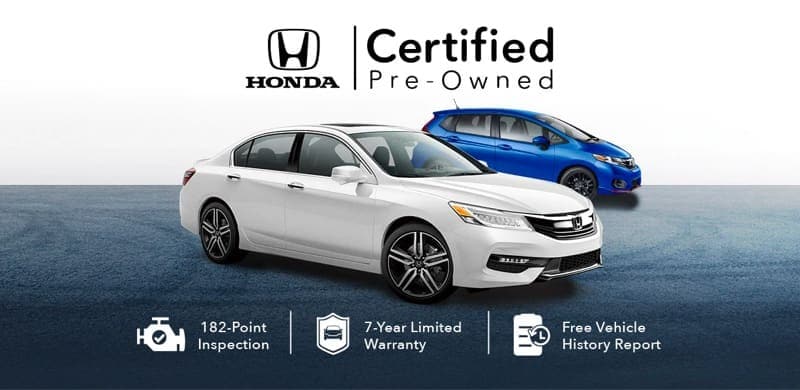 Certified Pre-Owned
Nothing compares to the quality of a Honda. No other program comes close.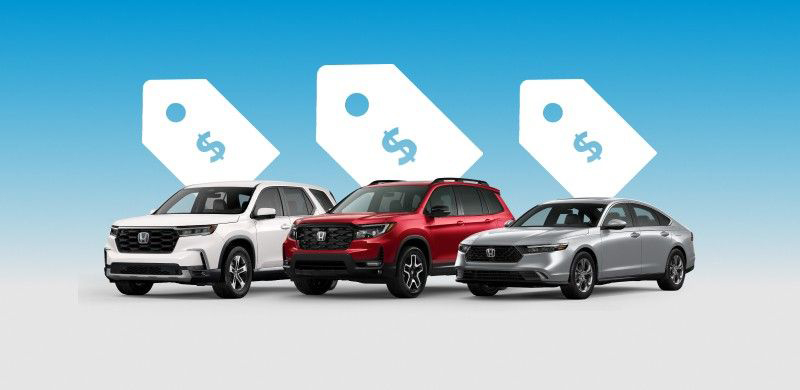 Current Offers
See this month's featured current offers going on now on new Honda vehicles.
Our Reviews
Just took delivery of our 5th Honda @PhilHughesHonda … that says it all! This time shout out to Lindsey Crunkleton - she lent her knowledge and insight of the current supply chain issues to help obtain our 2022 Civic. Best of all - when the car arrived she took us on a test drive and showed us all the new and advanced features - so professional and with deep product knowledge! Planning my 6th … how about the Honda 'e' ?
Had a wonderful experience from Steve in the service department. My tire was flat so my husband brought it in for repair. He stepped in and made the experience pleasant and he was very professional. Steve genuinely cares about customer service and the customer.
We had a great experience with Hector purchasing our 2021 CRV. Very quick, easy transaction both in sales and finance. This is the 3rd car we've purchased at Phil Hughes and won't be our last!
We were very fortunate to work with Jesse Parra @ Phil Hughes Honda! He's professional, accommodating, patient, & very courteous. He has a super "selling" talent!
We purchased a car today for our son. Best no - hassle car buying experience! Our salesman Will was the best!!! Finance was great too! Definitely recommend and will return again!
I just purchased my 5th new Honda from Phil Hughes..Have been a customer since 1976. I have always been extremely pleased with their entire staff and the excellent service they continue to provide.
After no satisfaction with my hometown area shopping, I decided to give Phil Hughes Honda a try since I am familiar with the Athens area and, I must say, it was well worth my hour plus drive. I purchased a pre-owned 2018 Honda HR-V from this dealership at the end of July. I am a senior citizens and have purchased several vehicles over the years and must say this is the best experience I have ever had in purchasing a vehicle. It was an excellent experience, with no haggling or pressure to buy. Everyone went above and beyond to make sure I had a pleasant experience and was completely satisfied with my purchase. A great big thank you to my Sales Consultant, Michael McCann and Steve LeCount, Service Department Rep.
Excellent services thanks Shad and to his managers for helping me pick out my 2016 Honda Accord Lx. I love my car no problems even though it's a used car
I was recently in the market for a 2020 Honda Insight Hybrid Touring. I searched all over North Georgia and entertained many offers for the car I wanted. It was Raytez Jenkins that reached out to me the most and not only convinced me buying from Phil Hughes was the best choice, but that they would match or beat any great deal I would find in the entire Northern Georgia and Atlanta Metro Area. There really was only 1 other dealership that was close to Phil Hughes offer for the car I wanted and they did not have the color car that I wanted, so Phil Hughes was the one. Raytez went to bat for me and he hit a home run on the price of the car. I am more than pleased with his effort and dedication to bring me the deal that I wanted. He was very polite and humble guy that I felt no pressure from at all. And he had my car looking like a million bucks and with a bow on it ready to roll as I arrived at Phil Hughes. And it was one of the fastest transactions that I have ever made buying a new car. The finance department was ready to rock and roll and Brain Buffington, finance manager that I dealt with was so upfront, organized, and ready to get the deal signed and delivered. He was very efficient, personable, and did a great job explaining all the forms I was signing for the car. Brain told me it was his last day at the dealership. Phil Hughes I am sure will not be the same without him. Great guy and Great Christian. I was very impressed with these guys and how they sold me the car at Phil Hughes. i would highly recommend buying a Honda from Raytez and these guys at Phil Hughes.
I'm a used car dealer, H&H Motor Sales here in Athens, since 1959. My wife wanted a new Honda. I picked up the phone and called Phil Hughes Honda. Spent about 15 minutes on the phone. The deal was done on one of 3 cars. I didn't even have to go out there. My daughter took her out & they came home with a new Honda. It was that easy. There is no longer a lot of negotiation in the car business. I have done this a long time and know the ropes. But, you can do the same thing. No more riding around shopping. The most important part of a new car purchase is a good Service Department. You have that at Phil Hughes. Why try to drive to Atlanta to try to save $60.00. If you live in the Athens Area, buy your car locally and get it serviced locally. If there is a problem, they will help you. Try that with an Atlanta Dealer. Thanks again, Hal R. Hanley H&H Motor Sales, Inc. Athens, GA
Excellent service. We looked between here and Tallahassee and chose to buy local. Service proved it was a good choice. Appreciate the good treatment. Very quick as well.
This 2019 is my 4th Honda. Just too good to move to another brand. Salesmen Jonathan, Will, and Rob were all very helpful and went over and above in service, sales, knowledge, and kindness. Thank you gentlemen!
Shad Kates, Definitely one of the best salesman EVER! Shad was wonderful from the beginning to the end. Shad took his time to explain everything about the cars in details to me. He's a great honest salesman.. Thank you helping me chose the perfect car!! Shad Is The Man at Phil Huges Honda.. #TenStars!
Update to previous review. The corporate guy finally said to repaint it for $300. We agreed just so we could move on. Took it in on Monday, picked it up on Saturday. Paint job is fine. The battery was dead due to the shop leaving the back dome lights on, so they replaced the battery for free. They also DID NOT charge us the $300 for the paint job. Staff was polite and friendly and they did their best to make things right. The local dealership, #PhilHughesHonda, went out of their way to make things right, even if corporate left them with the problem. Rant...we've owned a Ford Excursion for 18 years, paint looks as good as the day we purchased it, including the door jams. Honda Pilot is four years old, door jams have been moldy for three years. Honda told us to paint over it, they couldn't get it off. Now, the paint is peeling, in large chunks. They know there are issues but won't make it right. Been waiting over three weeks now on word as to whether they will repaint or not. Advice: don't buy Honda's until they figure out their paint issues. #HondaPilot #PhilHughesHonda
I just purchased a 2018 Honda Accord from this dealership and to say that I am highly satisfied would be an understatement! We had originally just stopped by to look until we met Dennis. He was fantastic! He didn't pressure us at all or even try to convince us to buy the car - He just answered all of our questions. We could tell immediately that he was quite the opposite of what we had been seeing at other dealerships. He was so honest and truly seemed to care about us as customers, not just the sell. We decided then that even if we didn't purchase that day, we would drive back to Athens just to deal with Dennis. (Even though we have a Honda dealership in Conyers where we live) After lunch, we decided to go back and make the purchase. It was then that Dennis introduced us to Jose to finish up the paperwork and explain all of the high-end technology of this car to us. He was so excited to tell us about this car; it was obvious Jose loves what he does and believes in their product. He was great and really took his time showing us all of the neat features involved with this car - and also answered all of our questions! To sum it up, from the sales people all the way to the finance manager, Jerry, we were treated so kindly! It was so refreshing! I would recommend this dealership to anyone and everyone! What a great car buying experience we've had!
Phil Hughes Honda service department is very efficient. There were many cars being serviced but I did not have to wait more than 40 minutes for them to finish with my 15,000 mile check-up. The customer service people are friendly and very helpful.
Awesome service and exceptional customer service! Both times I have visited Phil Hughes Honda of Athens, I have had awesome service. When my car was serviced, they checked to make sure everything was safe and in good condition. When my car was fixed for a safety recall, they also were super pleasant and did not treat me any differently even though the safety recall was free and they were not getting any money out of me. Would definitely recommend to a friend over and over again!
This is the fourth car I have purchased from Phil Hughes and all have been serviced there. The entire staff are always helpful and knowledgeable. My salesman Dennis Bence made this experience the best of all..
I want to Highlight the exceptional customer service I received from Steve @ the Athens Dealership. Steve went above and beyond the call of duty. He was so gracious from start to finish and made my experience enjoyable. He has got to be one of the top employee. He did everything right.
Gary Bowman was my sales person. Gary is AWESOME, the best I every deal with!
Very pleasant experience. Great customer service. Thank you for honoring our military in addition to giving us a military discount! My family and I will return.
Gary was my sales person and he was amazing. So sweet making me feel welcome, answering all my questions, checking out all the details of the car. AND made everything super easy and fast!! I've never had such a painless, worry free experience. Thank you Gary!!!
I was glad to get a reminder call about servicing my car. I had not realized how long it had been, so I made an appointment. My husband took the car in for me. It was the first time he had done this for my Honda. I assured him everything was very organized at the service center. He would go in and someone would wait on him, go over what service needed to be done, and they would give him an estimate of the cost barring any problems. I told him they had a nice waiting area, with coffee, water, snacks, and nice restrooms. When the car was done, they would come get him, tell him what was done, and where to pay for it. Just like clock work he was home, and he was a happy husband. I knew I could count on the service center to do what was right.
I've had Hondas for years and when they've needed service, I've always taken them to a Honda dealer. They know their vehicles.
Just bought my first Honda vehicle. The experience was great - Dennis Bence did an excellent job in helping me find what I wanted. So for anybody looking to buy a Honda stop by and ask for Dennis hes the man. Thanks Dennis for everything!

Welcome to Phil Hughes Honda
Looking for a Honda dealer in Georgia you can rely on for all of your automotive needs? As one of the premier Honda dealer in Athens, GA, Phil Hughes Honda is dedicated to helping you find the right vehicle to improve your Winder and Monroe commute. We're proud to carry a wide variety of new, used, and certified pre-owned Honda models to suit your driving needs. You can find great savings and deals on popular Honda sedans, SUVs, crossovers, trucks, and vans as well when you take advantage of our lease deals and national offers and incentives.
Reliable Honda Finance Department
While there are plenty of north Georgia Honda dealers, you'd be hard-pressed to find one that competes with our full-service dealership. After you find the perfect new or used Honda model, our finance team will be standing by to walk you through the car-buying or leasing process. Whether you have questions about what you can afford or what your monthly payments will be, our team of experts is here to help.
Expert Honda Service & Genuine Parts
In addition to being one of the top north Georgia Honda dealers in terms of sales and finance, we also offer comprehensive car maintenance and repair services. Whether you simply need to stop by for an oil change or your vehicle needs major repairs, our trained technicians can handle things with ease. We also offer competitive prices and service specials to help our customers save. Drivers can count on our expert service and parts technicians to keep their Honda running at its best for years to come. When you work with our Honda dealership, we can help you explore any accessories or enhancements you may desire.
Prefer to try your hand at DIY repairs? No problem! Our team can offer tips and tricks to guide you along. No matter what type of part you need, you will find budget-friendly OEM Honda accessories for every job. You can splurge on building your dream car when you take advantage of our parts specials. If you prefer to let the pros handle the job, you can schedule service at our Honda dealer while you relax in our service center!
The Phil Hughes Difference
When you need to work with a reliable north Georgia Honda dealership, our team is here for you. Our service, selection, and savings make us your one-stop-shop for all things automotive. We offer a level of service other Honda dealers in Athens simply can't match. These are just some of the reasons Watkinsville and Greensboro area drivers will enjoy the Phil Hughes difference:
Family owned and locally operated since 1976
Phil Hughes' philosophy was to always take care of the customer.
Honda Certified Service Technicians and Honda Factory Parts
Express Oil Change and tire rotation in 45 minutes or less
FREE Shuttle Service throughout Athens
Each year, Phil Hughes Automotive Group donates $150,000+ to Athens and surrounding area partners.
We're proud of what we stand for, just check out our customer reviews on Google and Facebook!
Visit Our North Georgia Honda Dealership Today!
Whatever your automotive concerns are, you can find affordable solutions and a helpful team at Phil Hughes Honda, one of the leading Honda dealers in Georgia. Contact us today to learn how we can help you find a new ride, or keep your current model running smoothly! We look forward to being your Honda dealership of choice.
Get Directions To Phil Hughes Honda